Gunman arrested at Texas Donald Trump rally
Comments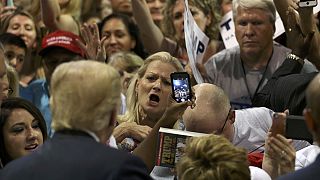 A man who allegedly had a gun at a rally for presumptive Republican presidential nominee Donald Trump in the US state of Texas was detained on Friday (June 17).
NBC reported that the man was discovered in a parking garage with a gun in his possession at the site of the rally in the The Woodlands, just north of Houston.
The man was detained several hours before Trump was scheduled to arrive.
It was not clear whether he was a supporter or opponent of the controversial real estate billionaire.
Video footage showed the man, who was wearing a Trump t-shirt, being handcuffed and led away by police.
Protesters, Trump supporters clash at Friday rally https://t.co/eDCNaJpuBZ#Houston#Hounews#Election16pic.twitter.com/OzsbueHRP3

— Rachael Gleason (@rachaelgleason) June 18, 2016