Holocaust survivors welcome conviction of Auschwitz guard Reinhold Hanning
Comments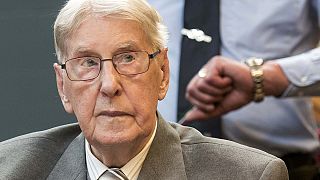 A former Auschwitz guard has been sentenced to five years in jail after being convicted over his role at the Nazi death camp, in what is likely to be one of Germany's last Holocaust trials.
Reinhold Hanning, now 94, was found guilty of being an accessory to the murder of at least 170,000 people.
The four-month trial in the western city of Detmold included testimony from around a dozen Holocaust survivors who described their horrific experiences.
Hanning apologised to them at the end of April, saying he regretted being part of a "criminal organisation" that had killed so many and caused so much suffering.
More than a million people, mostly Jews, were killed at Auschwitz in Nazi-occupied Poland more than 70 years ago.
The former guard was not charged with direct involvement in the mass murder. But he admitted he knew what was going on and did nothing to oppose it.
Prosecutors said he met prisoners at the camp and may have escorted some to the gas chambers.
The defence said Hanning should be acquitted as the former SS officer had personally never killed, beaten or abused anyone.
Evidence of direct involvement in killings used to be required for convictions in such cases, but in recent years courts have accepted lesser criteria.
Survivors' organisations and the World Jewish Congress have welcomed the verdict.
Besides Hanning, one other man and one woman in the nineties are accused of being accessories to the mass murder at Auschwitz. A third man who was an SS guard at the camp died in April, days before his trial was due to start.