Florida police find body of boy grabbed by alligator
Comments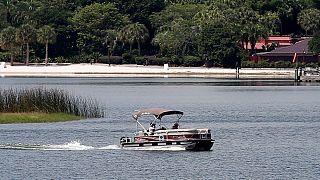 Police divers have recovered the body of the a 2-year-old boy who was seized by an alligator near a Disney World Hotel in Florida.
The toddler was dragged into the water in front of his family while paddling beside a resort lagoon.
His body was found near where he vanished despite his parents efforts to save him.
Sheriff says body of 2-year-old Lane Graves of Nebraska, snatched by gator in Florida, has been recovered. https://t.co/6YZaT3POsc

— The Associated Press (@AP) June 15, 2016
The Sheriff of Organge County, Jerry Demings gave this statement:
"We recovered the remains of the 2-year-old from the water and the body has now been turned over to the Orange County medical examiner's office for an autopsy. The body was completely intact and so at this time we will go through the formality of making a formal identification."
A spokesperson for Walt Disney World Resort where the family from Nebraska had been holidaying said everyone there was devastated by the tragic accident.
Since the attack and before the child's body was recovered, five alligators were seized and killed in an attempt to find the boy's remains.
Although wildlife officials have insisted such attacks are rare, alligators have killed five people in Florida in the last 10 years.