The Duke of Cambridge appears on the cover of a gay magazine
Comments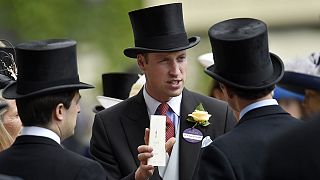 The Duke of Cambridge has become the first member of the UK's royal family to feature on the cover of a gay magazine.
No one should be bullied for their sexuality or any other reason
The shot, taken by Australian photographer Leigh Keily, shows William laughing and resting his chin on his hand.
The magazine usually features athletes, models and other stars under its main logo.
Editorial staff say the prince posed for the shot after meeting the magazine's editor and a group of gay and transgender people at his London home, Kensington Palace.
Why has William done this?
The duke invited members of the editorial team of "Attitude" magazine and other gay and transgender people to visit him in the palace.
Discussions centred on the issue of bullying and its repercussions for mental health.
HRH met a group of young LGBT people convened by AttitudeMag</a> to discuss bullying at Kensington Palace in May 2016 <a href="https://t.co/V6XLWQJbNB">pic.twitter.com/V6XLWQJbNB</a></p>&mdash; Kensington Palace (KensingtonRoyal) June 15, 2016
Take a look at this short video of The Duke of Cambridge meeting AttitudeMag</a> and young LGBT people <a href="https://t.co/X6nOnAkkfX">https://t.co/X6nOnAkkfX</a></p>&mdash; Kensington Palace (KensingtonRoyal) June 15, 2016
William, whose brother Harry won praise in 2013 for saving a soldier in his regiment from a gay hate attack, is quoted as say anyone being bullied for their sexuality should report it and get support.
The magazine edition went to press before the mass shooting at a gay club in Orlando at the weekend.
The Duke and Duchess offering their condolences for the victims of the terrible attack on Orlando's Pulse nightclub pic.twitter.com/ILA4uJU2mr

— Kensington Palace (@KensingtonRoyal) June 14, 2016
The Duke and Duchess of Cambridge went to the US Embassy in London on Tuesday to sign a book of condolence for the victims.
What they are saying
" Don't put up with it – speak to a trusted adult, a friend, a teacher, Childline, or some other service and get the help you need. You should be proud of the person you are and you have nothing to be ashamed of," – William said.
"I am very happy that the future King of the United Kingdom agrees that this must stop and I would urge parents in particular to raise their voices in their communities to ensure that every school protects, really protects, all children," – Attitude editor, Matthew Todd.