Euro 2016: how to keep the clashes in check
Comments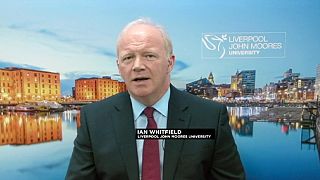 Chris Cummins, Euronews:
For more on the problem of football violence that is threatening to overshadow Euro 2016, we are joined by Ian Whitfield from Liverpool's John Moores University.
Thanks for joining us, Ian.
With Russia fined and given a suspended disqualification, how can the French regain control of the situation?
Ian Whitfield, former police officer and football policing expert at Liverpool's John Moores University:
Well, there have been some positive messages coming out this morning, I have heard for example that the behaviour of the Russian fans has finally been condemned by the Kremlin, which is a positive step.
I have also heard reports about the French authorities taking some active steps to try to disrupt the movement of Russian supporters who they felt were potentially a threat, so that again is something positive.
And I have also heard reports this morning from France that the England supporters who are moving towards the venue for the next fixture are taking perhaps the advice that has been given and are adopting a much more low-profile than they have had previously.
Chris Cummins, Euronews:
What advice would you give to the French security operation at Euro 2016 following the recent incidents?
Ian Whitfield:
I have seen very little in terms of engagement from the footage that I have seen, being from the tournament, with the French police relying a great deal on numerical superiority and resorting to riot gear, it seems.
In the UK, what has proved successful is engaging with supporters at a much earlier stage and you find that when you do engage and develop this rapport, there tends to be some element of self-policing that can develop within the supporter groups.
What I mean by that is that those who might be intent on confrontation or disorder are often talked down by their colleagues, because they appreciate the wisdom of the approach that the police are taking, they appreciate that the fundamental aim is supporter safety and they just want to facilitate everyone having a good time."