Disney's Shanghai resort gets mixed reactions from locals
Comments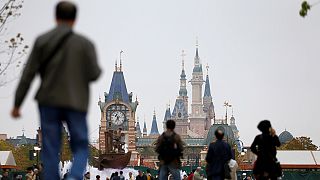 Disney's multi-billion dollar resort in the Chinese city of Shanghai boasts the world's tallest Cinderella castle.
"Life [in our old neighbourhood] was pretty good. It was very peaceful. Everyone had their own job. But after Disney came and demolished it, the government compensated us."

Relocated because of Disney
Thousands of jobs have been created and the tourist influx will help improve the local economy.
Many locals whose old homes were demolished to make way for the new theme park have moved to this new high-rise apartment complex .. at Disney's expense.
Qin Lijun says she really likes her new surroundings.
"The surroundings of the [old]village, they don't compare to now. You would be working in the factories there during the day, and then working on your land when you got home. That doesn't compare at all to here. Here, you walk out and it's all greenery and flowers. The surroundings are so much better."
Continues below
Labor groups criticize Disney over worker conditions at China suppliers https://t.co/80BITSemCR

— Reuters Business (@ReutersBiz) June 14, 2016
Factory closures
Not everybody is happy, though. About 150 factories have been ordered to shut down to help cut down on pollution near the new resort.
Many of the workers are in their 40s and 50s and are unsure about their future.
"We definitely won't be moving…. Some people have been here full-time for more than ten years. We're just going to have to find other work," said Mr Cao, a 50-year-old welder at China Xingyue Group's factory.
Tourist experts say a massive project like Disney is bound to bring some undesired effects, but the economic upsides far outweigh any potential problems.