Ancient sporting values are revived in Nemean Games in Greece
Comments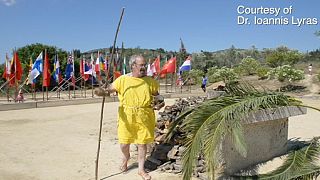 Far from the European football Championships and the forthcoming Rio Olympics athletes from around the world have been taking part in a very different sporting tournament in southern Greece.
They are called the Nemean Games and are a revival of the ancient Greek games which were once staged on a dirt course in a stadium over 2,300 years old.
Togas on, shoes off – the Nemean Games are on #Greecehttps://t.co/BKTbptf2ZFpic.twitter.com/F1BiuR0Niu

— Derek Gatopoulos (@dgatopoulos) June 11, 2016
Professor Stephen Miller from Berkley University in California, who led the excavation of the site and rivived the games, explained that by people running in their bare feet and touching the ancient soil they learn something about themselves and about history. "We have hundreds of local volunteers helping to make this work and its their games," he said.
#NemeanGames were wonderful! Thanks to SunvilTeam</a> for the opportunity to take part. Plan to be back in 4 years. <a href="https://t.co/zz7LJn4jCw">pic.twitter.com/zz7LJn4jCw</a></p>&mdash; Hilary Bradt (hilarybradt) June 12, 2016
Some have described the games as the "no-frills Olympics: No national teams. No medals. No shoes.
Traditionally they attract participants, aged 5 to 89. The races, which are divided in age categories, include a 90-meter sprint and a 7.5-kilometer run through fabled olive groves and vineyards in the area, where according to the ancient Greek mythology Hercules slayed a fearsome lion.
The ancient games were held for 1,000 years, pausing wars and hostilities between rival cities and states not to let anything interfere with the competition – something modern day supporters could learn a lesson from.