Trump's mixed messages after tough week campaigning
Comments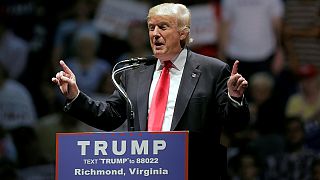 Donald Trump has sought to mend ties after a troubled week in which he's been called a racist by senior Republicans over his criticism of a Mexican-American judge.
Speaking at the annual conference of the conservative Faith & Freedom Coalition,
Trump didn't mention the row he sparked when he said that US District Judge Gonzalo Curiel cannot treat him fairly because of his Mexican heritage.
I have a judge in the Trump University civil case, Gonzalo Curiel (San Diego), who is very unfair. An Obama pick. Totally biased-hates Trump

— Donald J. Trump (@realDonaldTrump) May 30, 2016
But the US Republican presidential candidate did call for ethnic harmony when he took the unusual step of reading a carefully scripted speech off a teleprompter.
"Freedom of any kind means no one should be judged by their race or their colour, and, right now we have a very divided nation. We're going to bring our nation together."
But within hours of his speech to Christian Evangelicals, he was back on the attack. In an address to the Planned Parenthood Action Fund his his target was US Senator Elizabeth Warren of Massachusetts.
"You know, Pocahontas – I'm doing such a disservice to Pocahontas – it's so unfair. But this Elizabeth Warren – I call her goofy – Elizabeth Warren, she's one of the worst senators in the entire United States Senate. She's gotten practically nothing done, practically nothing passed."
Some Republican leaders have threatened to withdraw their support unless Trump changes his tone. It seems, he still has lots of work to do.