Thousands rally in eastern Ukraine against armed OSCE mission
Comments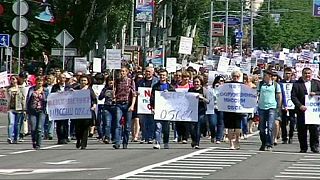 In eastern Ukraine, a large rally has been held in the pro-Russian rebel-controlled city of Donetsk.
Thousands of protesters hit the city's streets on Friday to demonstrate against plans to arm an Organization for Security and Cooperation in Europe (OSCE)monitoring mission.
In 2014, after a request from Kyiv, the organisation sent nearly 600 unarmed staff to the rebel region.
One protester said: "Under the guise of an armed mission they could deploy any terrorist units here – like the (ultra-nationalist)Right Sector – after dressing them in proper uniforms.''
Donetsk separatist leader Denis Pushilin also voiced his opposition, and suspicions, to any armed monitoring mission by the OSCE.
"We all clearly understand that for the armed forces of Ukraine armed monitors would be an easy target. And by tradition they would try to accuse us," Pushilin said.
A ceasefire deal, agreed in February last year in Minsk, has failed to completely halt the war in Eastern Ukraine, now in its third year. More than 9,000 people have been killed in the conflict.