ISIL 'shoots at civilians' trying to flee Falluja in Iraq
Comments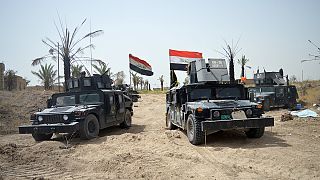 As the Iraqi army and its allies battle to retake Falluja from ISIL, an international aid group says militants from the so-called Islamic State have been shooting at civilians trying to flee the Iraqi city.
The Norwegian Refugee Council claims several civilians have been killed while trying to cross the Euphrates River.
An Iraqi official says more than 1,000 people have managed to make the 300-metre crossing in makeshift boats. But police said at least four people were killed and nine others were missing after a boat sank on Saturday.
The river is one of the few escape routes left for civilians hoping to leave the besieged town as the battle for the city intensifies.
Many of those who have made it out are living in a camp a few miles away.
Residents say they lack food and electricity and are suffering in blistering summer heat – while the desperate living conditions make it impossible to fast as the Muslim world begins to observe the holy month of Ramadan.
"Who can fast this year? Doesn't someone who fasts need to eat? We have nothing. Before they (the government) used to give us broad beans and lentils, but we've received nothing over the past four months. They brought only soap bars and washing power and they have stored it in the caravan there and have not distributed it yet," said Shukriya Na'im, a woman displaced from Falluja.
According to the Norwegian Refugee Council, nearly 3,000 people managed to flee the outskirts of Falluja in the early days of the Iraqi offensive – but only a couple of families have made it out since.
With an estimated 50,000 civilians still trapped inside the city, it says reports that ISIL is targeting those trying to escape confirms its worst fears.