Headache for Angela Merkel as German President Joachim Gauck says no to a second term
Comments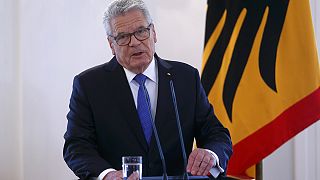 German President Joachim Gauck has surprised many by announcing he wont be serving a second five-year term. His decision is likely to give Chancellor Angela Merkel a major headache with the prospect of divisions within her ruling coalition over who should succeed him.
I don't want to presume an energy and vitality for another five years that I can't guarantee.

German President
Seventy-six year old Gauck cited his age as his reason for stepping down.
"I don't want to presume an energy and vitality for another five years that I can't guarantee. The way one looks at one's age is a very individual and personal issue. This is what I have decided for myself."
Gauck, a Lutheran pastor, played an important role in the peaceful protests in communist East Germany that led to the fall of the Berlin Wall in 1989.
Joachim #Gauck, Germany's one-term president of freedom https://t.co/Xpwh8KDqWfpic.twitter.com/Zxj0r8GKbS

— dwnews (@dwnews) June 6, 2016
The search for a new candidate will add to Merkel's problems which already include a lack of unity within her government over her refugee policy and the rise in popularity of the anti-immigration AfD.
Putting positive spin on the situation Merkel said:
"I had wished he would serve a second term, but of course I respect the president's decision. I would like to thank him for the work he has done, and happily he will remain in office for several months more."
Gauck's term expires in March 2017, less than six months before a general election. The position which is largely ceremonial is not directly elected by the people, but by an assembly of members of the German parliament.
German presidents can only be re-elected once. They are considered a moral authority and represent the country at official gatherings and on issues of international law. They also have the power to dissolve the parliament.
Among the names being mentioned as possible successors are Finance Minister Wolfgang Schaeuble, 73, and Foreign Minister Frank Walter Steinmeier,60.