Novak Djokovic beats Andy Murray to win the French Open
Comments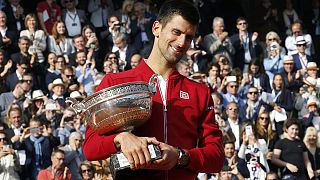 Novak Djokovic has finally got his hands on the Coupe des Mousquetaires – the trophy awarded to the winner of the French Open Men's Singles – after he beat Andy Murray in four sets.
It was the sole major title that was missing from his illustrious trophy cabinet.
The Serb now has a career grand slam after winning the four major tennis titles, Wimbledon, the US Open, the Australian Open and now the French Open.
He is also the first man since Rod Laver in 1969 to hold all four titles at once.
Murray, Britain's first male finalist in Paris since 1937, was also hoping to win his first French Open title.
The Scot started the stronger of the two and won the first set.
But the world No1 quickly found his game and went on to win the Roland Garros tournament 3-6, 6-1, 6-2, 6-4.
"It's a very special moment, the biggest of my career," said Djokovic after his victory.
"I felt today something that I never felt before at Roland Garros, I felt the love of the crowd.