Tiananmen Square massacre fresh in the minds of thousands in Hong Kong
Comments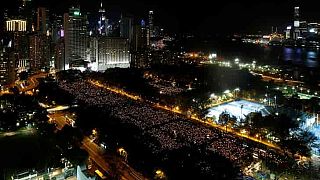 China's bloody crackdown in Tiananmen Square 27 years ago is still fresh in the hearts and minds of the people of Hong Kong.
27yrs ago students' peaceful stand in #Tiananmen for the change they wanted to see was met w/ force instead. #May35pic.twitter.com/E6yFQ5L9N6

— Samantha Power (@AmbassadorPower) June 4, 2016
Tens of thousands attended the annual evening vigil at Victoria Park.
But, turnout appeared slightly down on previous years after some students groups held breakaway forums. They claim the candlelight event is now "too rigid" and fails to emphasise Hong Kong's separation from mainland China.
Several activists screaming pro-independence slogans were later arrested following clashes with the police.
Many leading democratic voices initially sprung to action to oppose the killings as tanks and troops stormed through Tiananmen Square. They related their struggle for direct elections on the island to the 1989 rallies in Beijing.
The former British colony operates under a "one country, two systems" deal with China, which ensures civil freedoms are safeguarded.
Its yearly memorial event is the only large-scale public commemoration of the brutal killing by the Chinese authorities of hundreds – or, some estimates suggest, thousands – of pro-democracy protesters in Beijing.
Heavily censored in mainland China, the crackdown which was heavily condemned the world over, is often referred to simply as the "June 4 incident" in the communist state.