Syria: monitoring group claims 40 killed in intensified fight for Aleppo
Comments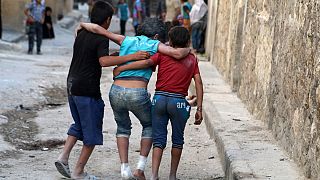 A Russian ceasefire monitoring centre in Syria says over 1,000 militants have begun an offensive against Syrian army positions south west of Aleppo.
It comes amid reports from the same group that more than forty people have been killed in shelling from Al-Nusra fighters inside the city. The Al-Nusra Front is said to cooperate with Islamist and jihadist rebel groups against forces loyal to the Syrian government.
The centre also quotes local civilians as saying armed groups containing some Turkish soldiers have emerged in northern Aleppo. According to the ceasefire monitoring group, "more than 2,000 militants are massing" in the area.
Ankara has yet to comment on this. However military officials have said they've targeted 11 ISIL positions in Syria from within Turkey, killing at least 14 militants.