Paris flooding 'stabilises' but multi-million-euro damage expected across France
Comments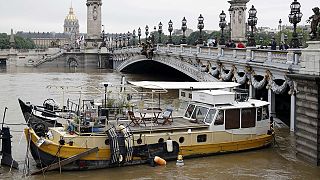 Parisians woke up on Saturday (June 4) to the news that the River Seine has stabilised.
Officials say the waters are slowly receding after reaching a 34-year high of 6.1 metres above their normal level on Friday (June 3).
#instantané le foule regarde le #zouave du pont de l'Alma qui brave la #CrueParis#CrueSeine#inondations

Paris museums on alert as flood chaos hits France, Germany https://t.co/aG9Av3u3gKpic.twitter.com/RN28NAiAbQ

— AFP news agency (@AFP) June 2, 2016
Paris remains under orange alert – the second-highest in a four-tier warning system.
Elsewhere in France, further rain is expected.
Water levels rose to 1.5 metres in Villeneuve-Saint-Georges, some 16km south of Paris. But the locals remain stoic:
"We can't fight the elements," said one man. "After all, the house has already endured multiple floods and is still standing. It's just material, there's no
human damage. We really don't have much choice but to endure it."
In May, 2016, rainfall levels across France were the highest in 143 years.
Although the two-month-long 1910 floods seem likely to maintain the record for the highest water levels, experts predict the damage caused this time could cost insurance companies upwards of 600 million euros.