China vows to reject South China Sea ruling
Comments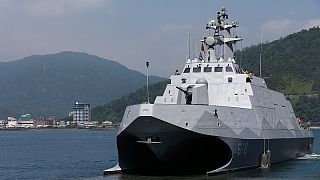 What is happening?
China has once again vowed to ignore a landmark legal ruling from the Court of Arbitration in the Hague about its South China Sea dispute with the Philippines.
Beijing's comments come on the fringes of Asia's biggest security summit in Singapore, where the situation is being
viewed with concern.
The tensions look set to dominate the Shangri-La Dialogue (SLD)
Chinese admiral expects S'pore to guide Shangri-la Dialogue to conflict resolution process https://t.co/aMyf2Ig0aEpic.twitter.com/4Q22UGOo03

— China Xinhua News (@XHNews) June 4, 2016
What did Beijing say?
"To put it simply, the arbitration case has gone beyond the jurisdiction of the arbitration court because the territorial and sovereignty dispute cannot be subject to arbitration. So, we see this arbitration is illegal and will not participate nor accept it," said Guan Youfei, Rear Admiral of China's People's Liberation Army.
Why is China angry?
China slams Philippines' definition of South China Sea 'reef' https://t.co/gLXSs9Uejd

— Reuters China (@ReutersChina) June 3, 2016
China has accused the Philippines of seeking to negate Beijing's sovereignty in the South China Sea by describing Taiping Island as a reef and not an island.
Beijing refuses to recognise the case, lodged by the Philippines with the Permanent Court of Arbitration in The Hague.
Officials say the dispute should be resolved through bilateral talks.
What does Manila say?
Manila is challenging the legality of China's claim in the South China Sea.
It argues that no land mass in the Spratly archipelago, including Itu Aba – or Taiping Island in Chinese – can be legally considered a life-sustaining island.
This would mean Beijing cannot hold exclusive rights to a 370 kilometre economic zone.
Why is the US involved?
The US is lobbying for Asian and other countries to back the ruling as binding.
Carter urges China to join 'principled security network' for Asia https://t.co/7CWcLeWVmW

— Reuters Politics (@ReutersPolitics) June 4, 2016
US Defence Secretary Ash Carter told the forum in Singapore that Washington will remain the world's most powerful military and the main guarantor of security in Asia for decades to come.
However, Guan Youfei warned the US to avoid escalating tension in the region at the same time.