Messi tax fraud trial over, verdict expected next week
Comments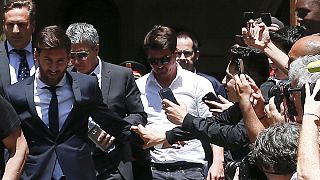 The Lionel Messi tax fraud trial concluded on Friday with a verdict expected to be delivered at the beginning of next week.
Messi and his father have been accused of defrauding the Spanish state of some 4.2 million euros.
After the four day trial both prosecutors contended that Jorge Messi was the main person responsible for the tax evasion.
Public prosecutors believe Barcelona star Lionel should be absolved as they do not believe there was an intent to defraud on his part.
But representatives of the tax office say the Argentina captain should also be held accountable and have requested a 22-month sentence for both men, although a heavy fine is a more likely outcome.
The case centres on the setting up of several shell companies allegedly used for Messi's income from image rights.