Greek detention centre burns in riot between Afghans and Pakistanis
Comments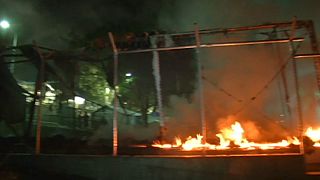 More than 70 refugees have been injured and hundreds left without shelter after a huge fire and clashes broke out at a detention centre in Greece between Pakistani and Afghan migrants.
Conditions for migrants and asylum seekers in Greece have been criticised as "sub-standard" by the UNHCR, and are contributing to rising tension, but reports from this incident in Lesbos, following a similar one on Samos, suggest each party had specific grievances.
The Afghans were accused of acting like a "mafia" to try and control the centre, while the Afghans accused the Pakistanis of theft and sexual harassment.
The centre, formerly a refugee camp, is for migrants who have been refused entry to Europe and are awaiting passage back to Turkey as part of the EU deal struck with Ankara.