Bundestag Armenian massacres vote threatens German-Turkish relations
Comments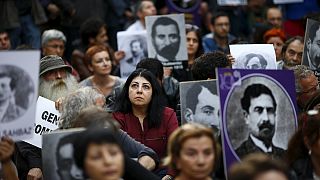 Hundreds of Turks in Germany protested outside the Bundestag ahead of the vote which saw the 1915 massacre of Armenians by their Ottoman occupiers classed as 'genocide'.
In the end it was in vain. Neither their objections, nor the threats of the Turkish president two days beforehand, made a difference.
"Do we have a so-called Armenian 'genocide' problem? We have no such problem. We're comfortable on this issue. Germany is a country where over 3 million Turks live. If it (Germany) takes the bait (with this vote), of course this will damage the future of our bilateral diplomatic, economic, commercial, political and military relations," Recep Tayyip Erdogan said earlier this week.
It's not the first time Turkey has been irritated by the question. Previous votes in other countries had often resulted in ambassadors being temporarily recalled. This time, given the importance of relations between Germany and Turkey, the question is even more sensitive. Against the backdrop of the refugee crisis, some observers wonder whether the timing of the vote wasn't deliberate.
Last year, Germany's president set the ball rolling by using the term "genocide" at events marking the centenary of the killings.
The commemorations in Yerevan in 2015 assembled several world leaders behind the Armenian cause. Pope Francis too referred to "the first genocide of the 20th century".
Turkey argues the killings took place in the context of World War I battles in which Armenian paramilitary groups rallied to the Russian army – and that 300,000 Armenians died, not 1.5 million as has been estimated.
Much of international opinion begs to differ. Well over 20 countries have now recognised the massacres carried out by Ottoman Turks as "genocide". Four countries – the first being Uruguay, the latest Germany – have done so by law.
A UN Convention classifies genocide as acts intended to wipe out a particular national, ethnic, religious or racial group.
Some international institutions have also taken similar moves. The European Parliament did so as early as 1987. The Council of Europe followed suit in 2001 – as has a UN sub-commission on protecting minorities.
But internationally there's no unity on the question. The UK, the US and Israel use different terms.
However the battle on the diplomatic front has exacerbated tensions, and the arguments over the mass killings of Armenians a century ago threaten to resonate beyond Germany's Turkish community.
It could result in a full-scale diplomatic row between two powerful countries with far-reaching effects for Europe as a whole.