Peru: Tens of thousands hold anti-Fujimori rally ahead of presidential poll
Comments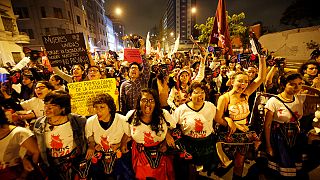 Fujimori – the name triggers strong feelings in Peru, with memories fresh of the country's disgraced ex-leader, now in jail for corruption and human rights abuses.
So the prospect of Alberto Fujimori's daughter Keiko winning Sunday's presidential election has brought tens of thousands of opponents onto the streets of the capital, Lima.
"We have a memory and we can't allow Fujimorism to return to govern us," said left-leaning Congresswoman Veronika Mendoza, who stood in the first round of the ballot and helped lead Tuesday's protest rally.
"We don't want a country of violence, corruption and delinquency for our children and Ms Keiko Fujimori has shown she does not have the ability or moral authority to combat these crimes," she said.
"We want a country without hate, a country with peace, democracy and progress," said fellow protester Jorge Rodriguez.
"That is why we say: "No to Keiko. Fujimori, never again!"
Portraying herself as the strongest candidate to tackle crime, Keiko Fujimori, on the centre-right, is the frontrunner in polls ahead of Sunday's second round run-off vote in which she will face centrist Pedro Pablo Kuczynski, a former World Bank economist.
"Anti-Fujimorismo" has become Peru's most powerful political ideology https://t.co/cEDONdDApF

— The Economist (@EconAmericas) 31 mai 2016
Kuczynski cancelled plans to take part in Tuesday rally against his rival, in a last-minute U-turn that could reinforce a view that he is indecisive ahead of Sunday's vote.
The 77-year-old, who endorsed Fujimori during her first presidential run in 2011, said it would be "undemocratic" for him to join calls to stop her.
While the move may help Kuczynski win over conservative voters wary of protests, it might also alienate him from Fujimori's hard-core opponents or broaden the view that he is not firm enough to be president.
Kuczynski has said he endorsed Fujimori in 2011 in a bid to keep then-leftist Ollanta Humala from winning.
Humala, once an ally of late Venezuelan President Hugo Chavez, has governed moderately and will hand over power on July 28.