Iraq halts Falluja offensive over civilian safety fears
Comments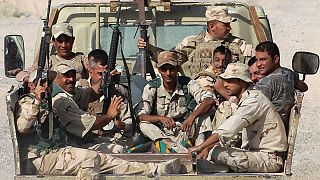 Iraqi forces have halted at the edge of Falluja. Facing a fierce counter assault by ISIL militants, the Iraqi prime minister has delayed operations over fears for the civilians trapped in the city.
The decision comes two days after elite forces set up on the outskirts, preparing for what would be the most ambitious attempt to oust the extremist group since ISIL overran much of the city in June 2014.
"We are here in Nuaimiya district and operations are ongoing and the advance towards the centre of Falluja is underway. We are being backed by air support from the international coalition and the Iraqi air force, explained one the commander of Falluja Operations.
Prime Minister Haider al-Abadi told military commanders that protecting civilians was more important than a quick win, but he added that 'victory is within reach'.
Although most are believed to have fled Falluja, the UN's children's agency said at least 20,000 children remain in the besieged city, and face the risk of being forced into fighting or being separated from their families if they manage to leave.