German vote on Armenian "genocide" labeled "ridiculous" by Turkish PM
Comments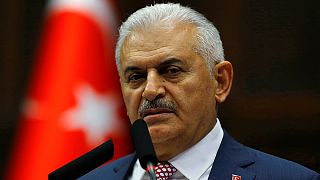 A German proposal to refer to the massacre of Armenians in 1915 as "genocide" has been called "ridiculous" by Turkish Prime Minister Binali Yildirim, who said there is no doubt that such a resolution could damage relations between the two countries.
Lawmakers in Germany will vote on Thursday on whether to label the mass killing of Armenians under ottoman rule as "genocide", with the Bundestag expected to accept the legislation.
German Green Party leader Cem Ozdemir, himself of Turkish decent, will be supporting the resolution, creating backlash in the Turkish community.
He said: "The ones who really have to worry are not the members of Parliament – they are not in danger – it's the people who live talking about this in Turkey who sometimes pay with their lives".
Many German MPs are reported to have received emails from Turkish constituents, some of them threatening and insulting the politicians.
Turkey rejects the resolution, denying that the word "genocide" is an accurate term for the killings. Members of Germany's large Turkish community taking to the streets in protest.
"We haven't killed anybody," one demonstrator said. "We just defended our country."
Up to 1.5 million Armenians were killed in the massacre which began in April 1915, with the deportation and eventual murder of up to 270 Armenian intellectuals and community leaders.
The exact number is disputed, but the mass killing is generally considered to be one of the first of its kind in modern times
Starting with the murder of able bodied men, it eventually led to the mass deportation and killing of women, children, and elderly Armenians.
The legislative document which proposes the changes also refers to the "inglorious" role of the German Empire – who were allied to the Ottomans during the First World War – in the massacre.
The massacre is already considered to be genocide by many independent historians, almost thirty states and European Parliament.