Many dead in Idlib as Russia and Turkey argue over blame
Comments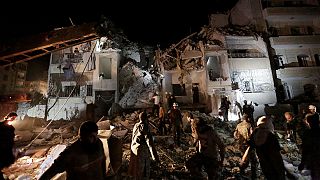 Many killed in Idlib
Russia strongly denies launching air strikes
"Indefensible crimes" – Turkish Foreign Ministry

What has happened?
At least 23 people are feared dead after what is claimed to have been a series of air strikes on the rebel-held Syrian city of Idlib.
Activists say scores of people have been injured.
A strong denial from Russia
Russia has strongly denied its planes have carried out air strikes overnight in the rebel-held Syrian city of Idlib.
"Russian planes did not carry out any combat missions, to say nothing of any air strikes, in the province of Idlib," said Igor Konashenkov, a Russian Defence Ministry spokesperson.
MORE: Russia rejects allegations that airstrikes targeted a number of sites in #Idlib, incl one next to hospital https://t.co/Jy1R6iXyWl

— RT (@RT_com) May 31, 2016
Konashenko called the allegations of strikes "a horror story" and said such pronouncements should be regarded with greater scepticism.
Has anyone been killed?
Activists say yes.
The Syrian Observatory for Human Rights claims at least 23 people died.
Dozens killed in bombing of national hospital in Idlib https://t.co/gSRrro9I3N

— The Guardian (@guardian) May 31, 2016
Observatory Director Rami Adbdulrahman said a number of positions were targeted in what is said to have been the heaviest bombardment in the city since a cessation of hostilities was agreed in February.
Seven children are said to have been among those killed.
"Indefensible crimes"
The Turkish Foreign Ministry says heavy air strikes on a hospital and a mosque killed more than 60 civilians and injured 200 in Idlib.
UPDATE – Turkish Foreign Ministry condemns Russia air strikes on Syrian city of Idlibhttps://t.co/b5mlotBjTd

—

DAILY

SABAH

(@DailySabah) May 31, 2016
In an emailed statement, the Turkish Foreign Ministry referred to the "indefensible crimes of the Russian and Syrian governments" and called for international action.
Amateur video
Videos posted on social media claim to show rescue workers pulling survivors from the rubble of buildings.
In one video, a child is shown being pulled from what is said to be the rubble of a building which is claimed to have come under fire.
Why is Idlib significant?
The city is a stronghold for rebel groups including the al Qaeda-linked Nusra Front.