Iraqi army enters Falluja as assault approaches decisive phase
Comments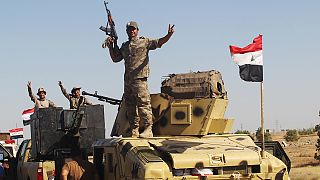 The Iraqi army has reached the southern edge of the city of Falluja.
A police station has been captured inside the city limits, launching a direct assault to retake one of the main strongholds of ISIL.
"There have been violent clashes on the outskirts of Falluja. These are continuing. God willing, the battle will soon be over. We will try to evacuate all civilians from the city as safely as we can," said Lieutenant General Abdul-Wahab al-Saadi, Commander of the Iraqi Army's Fallujah operation
The Rapid Response Team, an elite military unit, seized the police station at midday local time, according to reports.
The Iraqi army launched its operation to recover Falluja a week ago.
The city, which is 50 kilometres west of Baghdad, has been under siege for six months.
What does this mean?
The battle for Falluja is shaping up to be one of the biggest ever fought against ISIL.
Falluja is ISIL's closest base to Baghdad. It is thought to be the site from which the militant group has plotted an escalating campaign of suicide bombings against Shi'ite civilians and government targets inside the Iraqi capital.
Does Falluja have strategic importance?
Yes.
The city, in the heartland of Sunni Muslim tribes who resent the Shi'ite-led government in Baghdad, was the first Iraqi city to fall to ISIL in January 2014.
Months later the group overran wide areas of the north and west of Iraq, declaring a caliphate including parts of neighbouring Syria.