Hundreds of migrants drown at sea in series of shipwrecks
Comments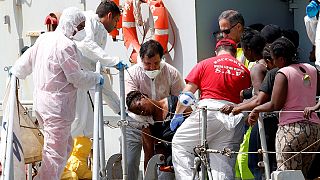 At least 700 migrants drown in past week
13,000 are rescued
Spring weather brings surge in Mediteranean crossings
The bodies of 45 migrants have been brought ashore at the Italian port of Reggio Calabria. They died at sea after the boat they were travelling in capsized. They are just some of at least 700 people thought to have drowned in a series of shipwrecks off the coast of Libya in the last few days.
Spring weather has led to a surge of people attempting the dangerous crossing from Africa to Europe.
#UPDATE Up to 700 migrants feared dead in Mediterranean this week: UNHCRhttps://t.co/8iHQaIbGlCpic.twitter.com/y6pCJe0RgI

—

AFP

news agency (@AFP) May 29, 2016
Survivors have harrowing tales of people being trapped in the hulls of capsized vessels or of women and children being flung into the water.
"All my friends told me it was not easy, don't try it (get on a smugglers' boat to Europe)," said one migrant from Eritrea. "But I said 'I don't believe them'. I thought it was easy and I will try it. When I saw this, I now believe them. It is very bad. But it would have been the same for me because for me it was the same, if I stayed in my country, I would have been dead."
Most of the boats this week appear to have left from Sabratha, Libya, where many said smugglers had beaten them and women said they had been raped, said a spokesperson from Medecins San Frontieres (MSF), which has three rescue boats in the area.
This week's arrivals included Eritreans, Sudanese, Nigerians and many other West Africans, according to humanitarian groups.
The migrants are more often than not piled onto flimsy rubber boats or old fishing vessels which can toss their occupants into the sea in a matter of seconds.
Since last Monday a flotilla of EU ships operating in the Mediterranean have rescued at least 13,000 people.
"It's time that Europe had the courage to offer safe alternatives that allow these people to come without putting their own lives or those of their children in danger," Tommaso Fabri of MSF Italy said.