Iraqi forces find ISIL underground tunnels as Falluja battle rages
Comments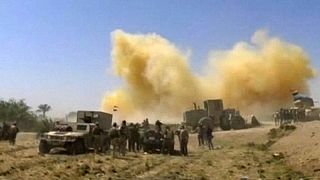 There has been no let-up in the Iraqi military offensive to drive ISIL out of Falluja.
But as new video emerged said to show troops and allied Shi'ite militia on the outskirts of the city, fears are growing for civilians trying to flee the fighting and the tens of thousands still trapped.
Reports say some of those stuck in the besieged city are starving to death.
"We have been hiding from ISIL for the past three days," said one displaced woman, holding a small child.
"They did not know where we were hiding. Otherwise we would have been dead by now."
"Food has been in very short supply. We are hearing accounts that people are relying on expired rice and dried dates and that's about it for their diet," UNHCR spokeswoman Melissa Fleming told a news briefing in Geneva.
"They have to rely on unsafe water sources, including drainage water from the irrigation canals."
Fleming has called for safe routes to be opened for civilians.
The latest from @melissarfleming on Iraqi families' harrowing escapes from besieged Falluja https://t.co/d1MGVy7N2Xpic.twitter.com/ILSzMded7w

— UN Refugee Agency (@Refugees) 27 mai 2016
Another UNHCR spokeswoman, Ariane Rummery, said about 825 families were able to leave the city hurriedly on Friday, with no belongings, and were taken to safety by minibus.
We have built shelters to assist Iraqi families newly displaced from besieged Falluja https://t.co/QyfpVsGtZupic.twitter.com/85El07IiTG

— UN Refugee Agency (@Refugees) 28 mai 2016
It is nearly a week since the battle began to retake Falluja, the first Iraqi city to be seized by the extremists in January 2014 and the second-largest in Iraq still held by the militants after Mosul.
Iraqi forces have found underground tunnels dug by the extremists who used the network to approach and escape the Falluja frontline.
The US military says ISIL's commander in Falluja is among dozens of jihadists to have been killed in coalition airstrikes in recent days.
On the ground, a Shi'ite militia leader has said the final battle to recapture the city will start in "days, not weeks".