Japan consumer prices fall again in April
Comments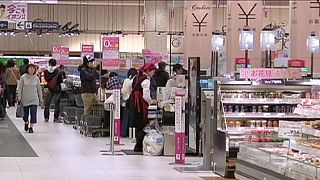 Further deflation fears in Japan as consumer prices fell for the second month running in April.
The Japanese people are holding off on buying things which means firms are not raising their prices.
The core consumer price index – which includes energy but not volatile fresh food costs – was down 0.3 percent in April from a year earlier.
That was the same as the drop in March, which was the biggest annual decline in three years.
The data could give Prime Minister Shinzo Abe justification to delay a planned increase in sales tax due in April 2017.
Abe has been trying to reverse Japan's sustained price declines with stimulus measures, including central bank money printing.
The Bank of Japan hopes a moderate economic recovery will keep boosting corporate profits, allowing firms to increase wages and nudge consumers into spending more. Robust consumption will allow companies to raise prices and help accelerate inflation.
See also:Japan avoids recession with surprise Q1 growth of 1.7 percent