Fleeing Fallujah: hundreds leave but tens of thousands are trapped
Comments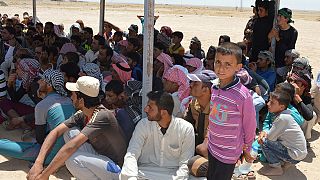 Hundreds flee besieged city
Tens of thousands remain trapped inside
No electricity or fresh water

What is happening?
Hundreds of displaced families have managed to escape the fighting raging as the Iraqi Army tries to retake the city of Fallujah from ISIL.
At least 50,000 civilians are thought to be still inside the city, which is around 65 kilometres west of Baghdad.
"We came from Falluja, we were trapped in Falluja and we got out," one man told reporters. "We hope the security will be increased and the government forces will continue to advance."
Aid workers say they have no access to the city. It is reported that there is no electricity or clean water supply inside.
The situation in #Fallujah is getting worse and escaping the besieged city is increasingly harder. pic.twitter.com/LXUJOjk6YZ

—

NRC

(@NRC_Norway) May 27, 2016
Why are they fighting?
The Iraqi Army, backed by US air power, began an offensive to recapture Fallujah earlier this week.
"We are beginning the operation to liberate Fallujah," Iraqi PM Haider al-Abadi said on social media https://t.co/5NUYkUWxyW

—

AFP

news agency (@AFP) May 22, 2016
The city has been in ISIL hands for two years.
Prime Minister visits injured soldiers
The Iraqi Prime Minister has visited troops injured during the latest military operation to retake the city.
Haider al-Abadi has been to a mobile military hospital located on the outskirts.