China's steel makers deny hacking theft of US data
Comments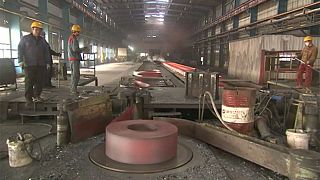 US regulators have launched an investigation into complaints about Chinese steel manufacturers.
Top American producer United States Steel Corporation has claimed Chinese competitors not only fixed prices but also used research data into new ways of making lightweight, high-strength steel used for cars bodies that had been gained through hacking computers.
The US International Trade Commission will now look into 40 steel makers and distribution subsidiaries in China.
The Chinese companies denied the allegations.
"The US steel industry has already lost its leading position and there is nothing worth stealing," an executive with Maanshan Steel told Reuters. "The United States is a market economy and we don't understand why they are taking these measures."
Baosteel, China's second-largest steelmaker and the world's fourth-largest, said in a statement the United States was acting in breach of World Trade Organisation rules. It urged the Chinese government to take all necessary measures to ensure the sector receives fair treatment.
The Commerce Ministry in Beijing called the US moves protectionism that would artificially interfere with trade rather than solve the industry's current problems.