Car bomb hits Shuiab Mosque in rebel-held Idlib, Syria
Comments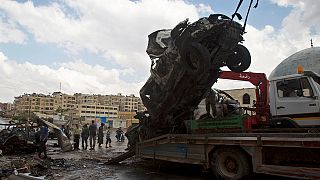 A car bomb exploded at the Shuiab Mosque in rebel-controled Idlib, Syria.
The Syrian Observatory for Human Rights said there had been casualties but gave no further details.
A ceasefire brokered in February by the US and Russia for the whole of Syria has been disrupted by car bomb attacks and violence between groups fighting for control of Syrian territory.
Idlib, which is close to the Turkish border, is controlled by opposition groups including the Free Syrian Army, Islamic Front and the Nusra Front.