Banco Popular latest capital increase causes share sell-off
Comments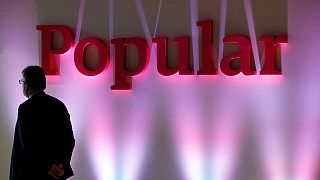 Banco Popular's share price continued to fall on Friday after it announced a second 2.5 billion euro sale of new shares in less than four years.
That is because it is stuck with so many mortgages that are unlikely to be ever paid back.
Popular, which is the country's sixth-biggest bank by assets, is the one most exposed to the country's troubled property sector.
As of March, it had around 25 billion euros of so-called toxic property assets, proportionally the highest in Spain at around 25 percent of its total loans.
Share price plunge
The bank's shares plunged over 20 percent on Thursday after it said it was going to raise more capital in response to the European Central Bank increasing the levels of cash that lenders have to hold in reserve. They slipped a further six percent on Friday.
Popular's were not the only shares to slip as investors are worried generally about the state of Spanish banks because of the hangover from the housing bubble bursting.
Banco Popular's 2.5 billion euro rights issue reminded European bank equity holders of their sorry lot – mahargbf</a> <a href="https://t.co/AKYaJL5rOF">pic.twitter.com/AKYaJL5rOF</a></p>&mdash; ReutersBreakingviews (Breakingviews) May 26, 2016
Spain's banks reduced their balance sheets after a property bubble burst at the end of 2008, but doubts remain about their profitability, with returns hit by low interest rates and heavily indebted borrowers paying down loans.
Losses, no dividend
Banco Popular Chairman Angel Ron told Reuters he expected losses this year but they would not exceed the size of the capital increase, which is equal to around half the bank's market capitalisation.
Ron said he did not expect Popular to make a dividend payment in 2016 following the rights issue, but expected to reach a cash-pay out ratio of at least 40 percent in 2018.
"In terms of provisions, we are doing twice as much in one go as analysts were expecting over the next three years and this should clear any doubts over provision necessities and bank coverage," Ron said.