Eagles of Death Metal singer criticised for Muslim conspiracy comments
Comments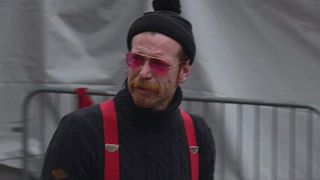 Eagles of Death Metal front man Jesse Hughes has been slammed for claiming the ISIL attack on a Paris theatre last November was part of a Muslim conspiracy.
Hughes and his band were performing when militants burst in killing 90 people.
The singer has repeatedly accused theatre staff of being in on the attack.
It has spurred Ismael El Iraki, a French Arab who was at the concert, into posting an open letter to him on his Facebook page saying he never thought he'd become a spreader of fear.
In an interview with the right-wing Taki magazine earlier this month, Hughes claimed Bataclan members of staff stared at him with "Arab envy" and that "terrorists were already inside" the venue when the shooting started.
"I saw Muslims celebrating in the street during the attack," he said. "I saw it with my own eyes. In real time! How did they know what was going on? There must have been coordination."
Former fan El Iraki concluded his letter asking Hughes to stop and return to the real spirit of rock and roll.