France: Nuclear strike raises stakes in showdown over labour reforms
Comments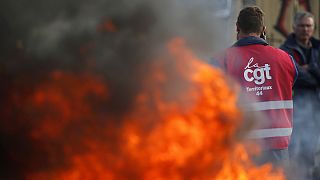 With pumps at more than 4,000 petrol stations in France now partially or fully dry, the showdown between the government and the hardline CGT union over contested labour reforms intensified on Thursday.
There is a lack of democracy and discussion

UNSA trade union official
Nationwide blockades and rallies, travel disruption and a strike at the country's nuclear power plants are putting more pressure on Socialist Prime Minister Manuel Valls who insists the law won't be withdrawn.
"The text will now go to the Senate where there is a right-wing majority which will put forward its propositions," Valls said on French TV on Thursday morning.
"And these will obviously be poles apart, not only from what we put forward but also from what those demonstrating are expecting. So changing course is out of the question."
In a sign of some flexibility, however, he added: "There can always be modifications, improvements."
French prime minister opens the door to possible changes in a labor bill that has sparked strikes and protests. https://t.co/WxBwhY1VAy

— The Associated Press (@AP) 26 mai 2016
After oil refinery shutdowns, Thursday's strikes at nuclear sites have taken the stand-off one stage further. Power cuts are not expected but tension is growing as France prepares to host the Euro 2016 football tournament in two weeks time.
Jean-Claude Pitte, an official with the UNSA trade union in Harfleur in Normandy, said the government's decision to force the measures through the lower house of parliament without a vote killed any possible compromise.
"We didn't refuse to talk," he said.
"They forced it through and we are very sorry about that. There is a lack of democracy and discussion with workers."
Already watered down and now causing divisions within government ranks, the reforms seek to make hiring and firing easier. The government says it is crucial to fight unemployment stuck at above 10 percent of the workforce. The CGT says it would dismantle protective labour regulation.
France has some of the most protective labour regulations in the euro zone.
The bill retains measures giving more flexibility to employers to agree in-house deals with employees on working time. It also offers companies less restrictive conditions for layoffs made for economic reasons.