Road collapse plunges parked cars into Florence underwater pipeline
Comments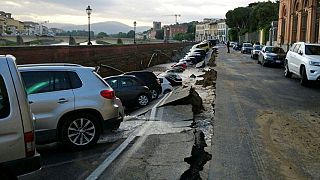 A road collapse has plunged a row of parked cars into an underground water pipeline.
Firefighters have been working to prevent other possible road collapses.
The 200-metre long hole opened up early on Wednesday morning along the Arno river bank close to the famous Ponte Vecchio.
Some local residents have been evacuated as a precaution.
A firefighter report says the hole was caused by the collapse of the water pipe.
There have been no casualties.
Florence, you got to think before parking on the Arno River shores pic.twitter.com/ng2r64TYrs

— Gianni Riotta (@riotta) May 25, 2016