Israel's new defence chief jokes about curbing his fiery nature
Comments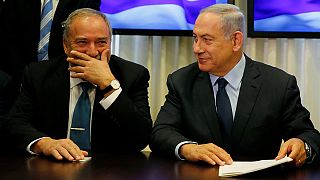 Israeli Prime Minister Benjamin Netanyahu and his choice for defence minister, ultranationalist Avigdor Lieberman, signed a coalition agreement on Wednesday (May 25) and issued assurances that the most right wing government in Israel's history would act responsibly.
Once Lieberman is sworn in, Netanyahu will have a government of 66 legislators, widening his current one-seat majority in the 120-member parliament, a goal the Israeli leader has said he has sought since winning a fourth term last year.
Lieberman's return to office – he was previously foreign minister – has raised questions at home and abroad given his past criticism of Israel's Arab minority, US-sponsored peace talks with Palestinians and regional powers Egypt and Turkey.
In first remarks as Israel's designated defence minister, right-wing settler Avigdor Lieberman joked about his fiery reputation: "I have undergone surgery to lengthen my fuse."
In a more serious vein, the Soviet-born 57-year-old struck a conciliatory note, emphasising "a strong commitment, to the peace, to the final status agreement [with the Palestinians]."
After Wednesday's (May 25) signing ceremony, military officers, diplomats and Palestinian leaders were left asking whether this combative figure would pursue a less confrontational line after he formally re-joins the cabinet next week.
Lieberman, who had a modest stint in Israel's armed forces, has in the past threatened to bomb Egypt's strategic Aswan dam and to assassinate Hamas leaders. He agitated Washington with his opposition to peace talks with Palestinians.
Youssef Al-Mahmoud, a spokesman for the West Bank-based Palestinian Authority, said that by bringing in Lieberman, the Israeli government "is mixing extremism with craziness".
The former foreign minister also angered the Israeli top brass, whom he will oversee, by joining protests last month against the court-martial of a soldier who shot dead an incapacitated Palestinian assailant.
Prime Minister Benjamin Netanyahu has brushed off any "crying and whining" at his pick for the second-most powerful cabinet post, part of a deal to broaden the religious-nationalist coalition government.
Netanyahu on Sunday had underlined his own leading role in national security was not about to change. "I've been looking out for Israel's security," he said. "I haven't done such a bad job in my years as premier, and that is how it will be now."
But the men have had a chequered relationship and the courting of Lieberman came as a surprise as he and Netanyahu have been sharply dismissive of one another.
Lieberman went from being chief of staff to Netanyahu in his first term as premier in the 1990s, to openly feuding with him while serving as his foreign minister in the last government, to mocking him from the opposition.
Lieberman had been critical of Netanyahu's efforts to patch up relations with Turkey after a deadly 2010 Israeli raid on a Turkish-flagged ship that was protesting against Israel's Gaza blockade and said the prime minister had lacked a clear strategy on the Iran nuclear issue.
"Go to hell"
Over the years, Lieberman has angered Israel's first Arab peace partner, Egypt. In 2008, he said then-Egyptian President Hosni Mubarak could "go to hell" for never paying an official visit to Israel.
As foreign minister, Lieberman opposed Netanyahu's terms for salvaging troubled bilateral relations with Turkey and was mostly sidelined in Western capitals, which preferred to correspond directly with the premier on the delicate diplomacy.
Reuters