Brazil in crisis after leaked tape forces out interim President's ally
Comments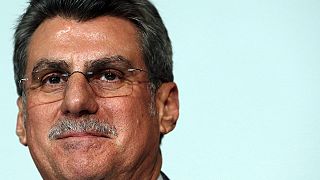 Brazil's minister of planning Romero Juca has stepped aside over claims he conspired to obstruct an investigation into the country's biggest-ever corruption scandal.
I never committed any act which would obstruct any investigation
The minister, a close ally of interim president Michel Temer, was caught on a leaked tape where he appears to discuss wanting to derail the investigation.
The claim made by the newspaper Folha de Sao Paolo but Juca says his words were taken out of context.
In the transcript it is claimed that the minister says the impeachment was necessary to "stop the bleeding" and that they needed to "stop everything".
Sérgio Machado, a former senator and the other party in the phone leak, agrees, saying the easiest solution would be to "put in Michel" [Temer].
Mr Juma said: "I never committed any act which would obstruct any investigation. As such, I am very calm."
Planning minister romerojuca</a> was recorded saying 'We have to change the gov' as the only means to stop a sweeping corruption investigation</p>&mdash; Nas lutas (PersonalEscrito) 24 May 2016
Meanwhile thousands protested against Brazil's interim president outside his Sao Paulo home.
Mr Juca's move will be a blow for Mr Temer, who stepped in for President Dilma Rousseff after she was suspended on May 12 over claims she massaged the budget to hide a deficit.
The planning minister himself was one of the leading voices in the call for the impeachment of Rousseff.