San Francisco police chief forced to quit
Comments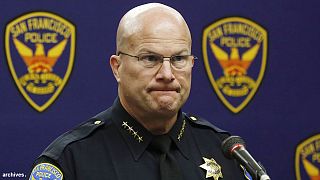 San Francisco's police chief has been forced to step down just hours after one of his police officers shot and killed a young black woman.
The resignation of Greg Suhr, followed calls for him to be sacked after a series of controversial shootings. His departure was announced during a press conference by the city's mayor Ed Lee, who asked him to quit.
''These officer involved shootings, justified or not, have forced our city to open its eyes to questions of when and how police use lethal force. Tensions between our law enforcement and communities of colour have simmered for too many years and that has come into full view," Lee said.
In recent months, Suhr and his department have come under fire over the deadly police shootings of several black suspects.
The latest victim, who was reportedly shot dead while behind the wheel of a stolen car, echoed last December's shooting by San Francisco police of 26-year-old black woman Mario Woods.
A video of the incident taken by a bystander, which showed Wood's being gunned down, went viral.