Netanyahu reshuffle means Israel being taken over by 'extremists'
Comments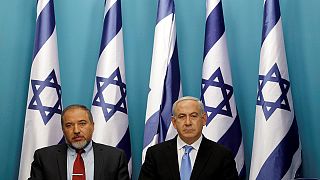 Reports from Israel say Benjamin Netanyahu has
offered the job of defence minister to his far-right rival Avigdor Lieberman in a move to strengthen his coalition.
It has prompted the man being replaced to claim the country is being taken over by "extremist and dangerous elements".
The defence portfolio is crucial for a country on a permanent war footing. It also runs civil affairs in the occupied West Bank, where Palestinians struggling for statehood live in friction with Jewish settlers.
The reports about Netanyahu's offer quote political sources but have not been confirmed. The prime minister spoke after Moshe Yaalon resigned as defence minister saying he had not seen eye to eye with Netanyahu.
The head of the government disagreed.
"The reshuffle in portfolios did not result from a crisis in faith between us. It resulted from the need to expand the government so as to bring stability to the State of Israel given the great challenges it faces. I reckon that if Moshe Yaalon had not been asked to leave the Defence Ministry and move to the Foreign Ministry, what he calls a crisis of faith between us would not have developed and he would not have quit."
At the moment Netanyahu doubles his job of prime minister with the post of foreign minister.
A former armed forces chief, Yaalon had provided a bridge with the US to balance Netanyahu's policy feuds with Washington over Palestinian peace talks and Iran's nuclear programme.
"To my great regret, I have recently found myself in difficult disputes over matters of principle and professionalism with the prime minister, a number of cabinet members and some lawmakers," he said earlier.
"To my great regret extremist and dangerous elements and dangerous elements have overrun Israel as well as the Likud party," he added, hinting he might quit the ruling party.
His potential replacement could give Netanyahu's coalition more stability: the inclusion of Lieberman's nationalist Yisrael Beitenu party would increase its current razor-thin majority of one, by several seats.
But the reported newcomer to the defence post is inexperienced militarily and has adopted a hardline stance towards the Palestinians.
It might dent confidence in the government at home and abroad.