Apple unveils future retail stores vision
Comments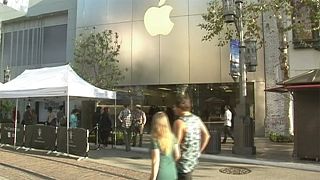 As iPhone demand slows, Apple has unveiled the future vision for its retail stores hoping that can help revitalise sales.
The shops will include design features from the tech company's new futuristic Silicon Valley headquarters, which is set to open early next year.
The outlets will include something called the 'boardroom' a special area for entrepreneurs, and small business owners as well as an open space dubbed the 'forum' with a giant HDTV screen for community events.
The first opens this week in San Francisco.
4 clues about Apple's future hidden in its new San Francisco store https://t.co/atX3ebjMHBpic.twitter.com/yIKiuduiVk

— Fast Company (@FastCompany) May 20, 2016
Apple opened its first store 15 years ago. They are the envy of many in the retail world, boasting the highest sales per square metre in the industry.
The makeover follows Apple's first-ever decline in iPhone sales and its first revenue drop in 13 years in an increasingly saturated market.
The new designs have been overseen by Apple's head of retail operations Angela Ahrendts, who joined the company two years ago from Burberry where she was chief executive.
San Francisco's new flagship Apple Store https://t.co/XYx4msuFCB via philiped</a> h/t <a href="https://twitter.com/BogieZero">bogiezero

— Nico M. ten Hoor (@Nicoooooooon) May 20, 2016