Police end hostage-taking in attempted Moscow bank robbery
Comments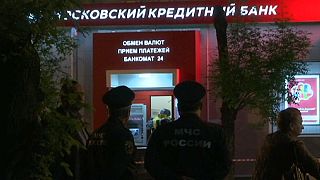 Police in Moscow have freed six hostages taken in an attempted bank robbe ry by a lone gunman.
Witnesses say the man entered the Moscow Credit Bank in the east of the Russian capital and demanded the equivalent of more than 200,000 euros, threatening staff with a handgun.
The Interior Ministry says special police forces moved in after five hostages left the building, leaving one staff member trapped in a room behind a steel door. Police say the robber died when he activated a home-made bomb as they moved in to end the siege.