Over 100 feared dead as huge landslides bury Sri Lankan villages
Comments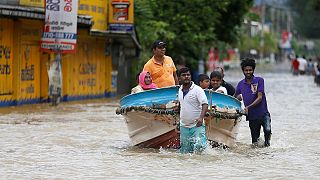 At least 150 people are feared dead following two massive landslides in central Sri Lanka, officials say.
More than ten bodies have been recovered so far.
However, a Red Cross worker said the death toll was feared to be between 300 and 400.
Days of torrential rain preceded the disaster, forcing over 223,000 people from their homes nationwide, according to official data.
Rescuers are focussing largely on the town of Aranayaka, in the central district of Kegalle, where three villages have been buried.
Officials say they plucked more than 350 people to safety before nightfall hampered efforts.