Kidnapped Chibok girl found in Nigeria - reports
Comments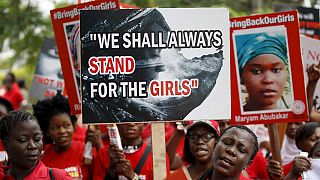 First girl to be found
276 vanished without a trace in April 2014
No news of their fate until now
Activists say one of the Chibok girls kidnapped by Boko Haram extremists in Nigeria in 2014 has been found.
One of missing Chibok girls found in Nigeria https://t.co/AKGyUI7jYzpic.twitter.com/CmUDsxhMiv

—

ITV

News (@itvnews) May 18, 2016
Amina Ali Nkek was reportedly found in the Sambisa Forest, close to Nigeria's border with Cameroon.
The area is thought to be under the control of Boko Haram.
How was she found?
The BBC says Amina was reportedly identified by a fighter from the Civilian Joint Task Force (JTF).
The vigilante group was set up to tackle Boko Haram.
What happened at Chibok?
BREAKING: Missing Chibok schoolgirl found in Sambisa – https://t.co/CnVY9rDsD4

— Daily Post Nigeria (@DailyPostNGR) May 18, 2016
276 girls were abducted from their secondary school in North-east Nigeria.
Militants affiliated to Boko Haram were said to be behind the abduction, which happened in April 2014.
Amina was reportedly one of 25 girls taken in Chibok who were from the village of Mbalala.
It is understood she was found with a baby.