Donald Trump doubts relationship with UK PM David Cameron
Comments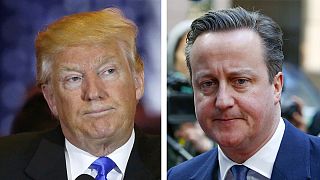 US presidential hopeful Donald Trump said he was unlikely to have a good relationship with David Cameron.
The British prime minister has criticised Trump for proposing a temporary ban on Muslims entering the United States.
"It looks like we're not going to have a very good relationship, who knows? I hope to have a good relationship with him, but it sounds like he's not willing to address the problem, either," Trump told British television network ITV.
Britain claims it has a "special relationship" with the US.
The UK chancellor George Osborne says they would talk to Trump because it is in Britain's interest to talk to its allies.
"Look, of course we stand by what we said when he made it clear that he didn't want to have Muslims coming into the United States and both myself, David Cameron and others were pretty clear that was not a view we supported but he is an American presidential candidate and we will talk to him because it is in our interest to talk to our allies like the United States of America," said Osborne.
Trump "was speaking to Piers Morgan on ITV's Good Morning Britain" https://t.co/27RaE2xWqq

— Jonathan Martin (@jmartNYT) May 16, 2016
Trump slams London Mayor Sadiq Khan
Trump also criticised London's newly elected Muslim mayor Sadiq Khan for making "very rude statements."
Trump had initially welcomed Khan's election and said he would make an exception in the event of a ban on Muslims for him entering the United States, drawing a sharp reply from Khan.
"Donald Trump's ignorant view of Islam could make both our countries less safe – it risks alienating mainstream Muslims around the world and plays into the hands of the extremists," Khan said.
Responding to this criticism in the ITV interview, Trump said: "He doesn't know me, never met me, doesn't know what I am all about. I think they are very rude statements. Frankly, tell him I will remember those statements. They are very nasty statements. It is ignorant for him to say that."