Dominican Republic: Danilo Medina poised to win second term, partial results suggest
Comments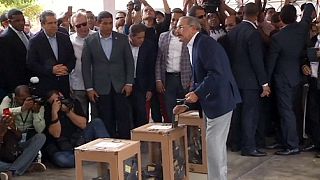 Danilo Medina appears poised to win the first round of the Dominican Republic's presidential election.
The incumbent was on 62 percent after the votes were counted from 18 percent of polling stations. If the tally is sustained, it will be enough to avoid a run-off election.
Medina favored in Dominican election; economy beats graft claims https://t.co/NZ5VVp6gsypic.twitter.com/4ksvoGNy1Z

— Reuters Top News (@Reuters) May 15, 2016
Under the Democratic Liberation Party's 12-year-rule, the economy has gone from strength to strength. However, unemployment stands at around 14 percent and some 40 percent of the population is thought to live in poverty.
Medina's rival, businessman Luis Abinader, was lagging behind on 35 percent. He has accused the coalition government of corruption.
New technology, new problems
Electronic, as well as paper, voting was possible for the first time, but technical issues at some polling stations meant the ballot was extended by an hour.
Spain's former Prime Minister, José Luis Rodríguez Zapatero, was among a group from the OAS, which was observing the election.
"These new technological opportunities always have problems when first tested, it's very common," he said. "Ultimately, I think it is good and we need to innovate because technology will decisively contribute to improving the electoral process."
Pilot programme for prisoners
Another first was a pilot programme in which some 1,500 pre-trial inmates were allowed to vote.
It forms part of broader reforms driven by Andrew Coyle, a British prison warden-turned-campaigner.