UK-EU referendum campaign heats up with Hitler comparisons
Comments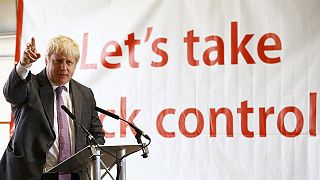 The EU referendum campaign has courted controversy in the UK with Leave campaigner and former London mayor Boris Johnson comparing the EU's aims to Hitler's while Remain campaigner and premier David Cameron claimed that Britons will be out of pocket if they vote to leave. Both have drawn criticism for fear mongering.
"If we vote to leave on the 23rd of June we will be voting for higher prices; we will be voting for fewer jobs; we will be voting for lower growth; we will be voting potentially for a recession. That is the last thing that our economy needs," said Cameron at a rally on Saturday (15 May).
Remain campaigners are pushing the economic argument, which they say the Leave camp are losing. While Boris Johnson said Europe suffered from a massive democratic void.
"I'm telling you that if we vote 'leave' on June the 23rd and take back control of this country, and our democracy and our economy, then we can prosper and thrive and flourish as never before," Johnson told supporters.
Adding fuel to the fire Johnson told British paper The Telegraph that various people including Napoleon and Hitler had tried to unite Europe under a single entity but 'it ends tragically' adding that the EU was trying to do the same by different means.
His comments drew sharp criticism with some accusing him of playing political games with the darkest chapter of Europe's history and others saying it smacked of desperation. While Twitter was a buzz with the hashtag EU to Hitler.
Boris last week: Cameron guilty of 'totally demented' scaremongering over EU.
Boris now: Compares the EU to Hitler.

— Baroness Hussein-Ece (@meralhece) May 15, 2016
Top #Brexit buffoon Boris Johnson compares the EU to Hitler. Don't they read books at Eton? https://t.co/yraIeTbVzGpic.twitter.com/9GtI844H1q

— Andrew Stroehlein (@astroehlein) May 15, 2016
Boris has been reading that book again. #EURefpic.twitter.com/VdXjc3V2V2

— Angry Salmond (@AngrySalmond) May 15, 2016
How dare Boris compare the EU to Hitler! Hitler was democratically voted in to power, none of the EU commission were. Totally different.

— Alex Mullen (@alexmullen) May 15, 2016
Johnson also challenged Cameron to a televised debate – sparking speculation over his own ambitions to lead the country.
As the campaign enters its last six weeks, the war of words is set to intensify as the latest polls show the British public divided 50-50 on whether to continue its relationship with the EU.