Gay rights marchers in Cuba celebrate progress
Comments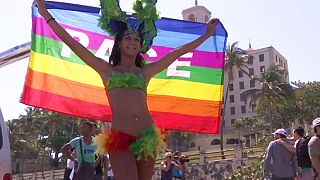 Hundreds of supporters of gay rights in Cuba have marched along the famous Malecon seafront in Havana, to celebrate the advances made in recent years.
Among the activists was Mariela Castro, the daughter of Cuba's president.
Homosexuals were oppressed during the revolution's early years, often jailed and exiled by the Communist government – but have been increasingly accepted in the country by the government and most people in recent years.
Some activists say however there is room for improvement, citing same-sex marriage as an issue that needs to be addressed.
Two LGBT leaders from United States visiting Cuba for pride events https://t.co/5nwKpEWHO0#Cuba#Gay

— Cuba Gay (@CubaGay) 13 May 2016