Nigeria hosts summit on Boko Haram, 'weakened but still a threat'
Comments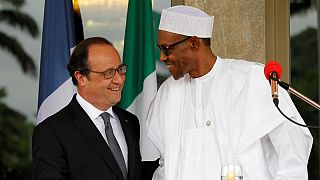 The fight against Boko Haram is bearing fruit but the militant group remains a serious threat, French President François Hollande told a security summit in Nigeria on Saturday (May 14).
No later than Friday did the United Nations Security Council voice alarm over the danger posed by Boko Haram and its links to the group calling itself Islamic State, or ISIL.
"This terrorist group [Boko Haram] has been weakened, it's been pushed back, it's been chased around and has given up the territories it was controlling, and as a result it's being even better targeted and fought. However, this terrorist group remains a threat," he said.
Hollande is the only non-African head of state to attend this meeting dedicated to the fight against Boko Haram, after he hosted a similar one in Paris two years ago.
#Bokoharam: President Hollande in #Nigeria for a security summit https://t.co/pb6SmsDDtmpic.twitter.com/yNyT1yzZbh

— africanews (@africanews) May 14, 2016
Boko Haram may be sending fighters to Isis in Libya – US officials https://t.co/qF9mKJhrh9

— The Guardian (@guardian) May 14, 2016
In the capital Abuja, Hollande met his Nigerian counterpart Mohammadu Buhari, who drew attention to the humanitarian crisis the conflict is causing.
For almost seven years now, Boko Haram has been waging an insurgency in the north of Nigeria to impose its extreme interpretation of Islam on Africa's most populous nation, but US-backed African governments have made military advances against the militants.
Some 20,000 people have died in the uprising and more than 2.5 million have been displaced, many of them women and children.
"Most of the children are orphaned. They didn't even know where they come from and they don't know their parents. This for people of conscience is of great concern," Buhari said.
Among the topics to be discussed during this weekend's summit is the formal deployment of a long-awaited 8,500-strong regional force to fight Boko Haram, comprising soldiers from Nigeria, Benin, Cameroon, Chad and Niger. The African-Union backed force was supposed to have been on the ground in July of last year.
Hollande arrived after a short visit to the Central African Republic, where he announced the end of the French military mission Sangaris, and promised to follow up on claims of sex abuse by French soldiers stationed there.