Zlatan leaves PSG "like a legend"
Comments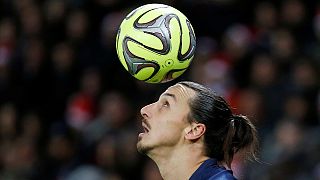 Football clubs around the world will be no doubt reaching for the cheque books in a rush to sign Zlatan Ibrahimovic.
In his usual self-aggrandizing style, the Sweden captain tweeted on Friday that he's leaving Paris Saint Germain saying he arrived "like a king, left like a legend."
There are no hard feelings from coach Laurent Blanc, who says the striker will be missed and could certainly come back as coach one day.
"Above all I'll remember his competitive spirit. I've rarely seen a spirit like his, honestly. Of course the player but the competitor too, every day he was here, he wants to win, he wants to prepare, he wants to play every match. He's a big personality," said Blanc. "I think with the knowledge of football that he has he could play a much more important and more decisive role for the club. Even my job".
Zlatan, who's 34, will play his final league 1 game at Paris' home ground Parc de Prince on Saturday and then the French cup final against Marseille in a week.
Having famously said that the World Cup in Brazil wouldn't be worth watching because he wouldn't beplaying, Ibrahimovic is set to lead Sweden at this  summer's Euro 2016 finals in France.
Major League Soccer side LA Galaxy are now widely believed to be leading the race for his signature but the striker's also been linked to clubs in the English Premier League, the Middle East and China