Hundreds attend Beirut funeral for Hezbollah commander
Comments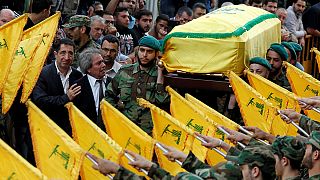 Hundreds of people have turned out for the funeral of a top Hezbollah commander in southern Beirut.
Mustafa Badreddine is said to have died in an explosion targeting one of the Lebanese Shi'ite group's bases in Syria. They have announced that Sunni extremists were behind the attack, adding it would strengthen their resolve to fight the Islamist militants.
Hezbollah fighters are in Syria to support President Bashar al-Assad.
There have been reports that Israel was behind the deadly attack, which happened near Damascus airport.
Israel made no immediate response to that claim.
Fifty-five-year-old Badreddine was assessed by the US as being responsible for Hezbollah's military operations in Syria.
The group has lost at least four prominent figures in Syria since January last year. This, despite Russian intervention in support of Assad and his allies.
But Badreddine's death is the biggest blow to Hezbollah since its military chief was killed in 2008.