High heels at work? UK petition calls to end 'sexist' dress codes
Comments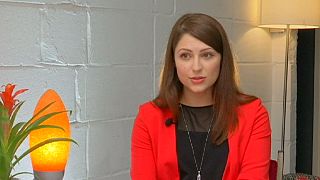 Can your employer force you to wear high heels at work? Some are finding the legal ground on the topic is shaky – just like it can be when perched up on stilettos.
Temporary receptionist Nicola Thorp was sent home in London for wearing flat shoes, and she's since set up a petition calling for Britain to make that illegal.
"Employers are allowed to impose different dress codes for men and women, which is fair enough, as long as that dress code doesn't favour one of the sexes. Now my point is that by making women wear high heels you are acting favourably towards men, because their footwear doesn't affect their posture, their ability to move," she explained.
Sign the #NicolaThorp petition & consign this nonsense to the dustbin. https://t.co/1xLX1p2Z4p#MyHeelsMyChoicepic.twitter.com/NnctaxHKhP

— Skint London (@SkintLondon) May 13, 2016
Thorp made headlines this week describing how she had arrived in flat shoes for her first day to work as a receptionist for accounting company PwC last December, only to be told she had to wear heels. She said she refused an offer to go buy a pair and was sent home without pay.
The petition has attracted more than 120,000 signatures so far. That's above the threshold needed for parliament to consider holding a debate and review rules Thorp calls "out-dated and sexist."
"The law in this kind of situation can never cover all eventualities. And as a society we change and evolve over time, so it's the job of the judges in interpreting that law to ensure that we keep fairly up to date," said employment lawyer Rebecca Tuck.
Portico, the temping agency through which Thorp got the job, says it has reviewed its uniform guidelines upon PwC's request and now leaves women the choice between wearing heels or not.
May 11, 2016